Each member of our staff works to improve their own skills and the quality of life of those they serve, every day. The people who work at Disability Supports continue to challenge the status quo, the expected and the expectations of what people with disabilities can or should do. If you are interested in employment with the organization, please review the Gentle Teaching philosophy all staff and employees follow.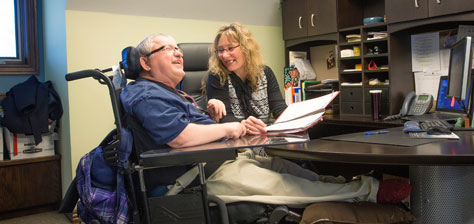 "I am most proud of the care that our clients receive — in every aspect of their lives — from their personal care, to the activities they participate in, to the work that's offered them when they're able. We're the best. We expect more." — Debbie Adams, Director of Operations
If you are interested in joining our team, we'd be happy to have you apply for one of the positions listed. To search posted job openings, and to apply online, please click here.
©2017 Disability Supports of the Great Plains
501 E. Northview Ave. | McPherson, KS 67460