Welcome to a Higher Standard of Care
Disability Supports of the Great Plains, in McPherson and Hutchinson, Kansas, began with parents who believed there was a better way to care for those with disabilities. While the types of services provided to disabled adults may be similar from agency to agency, Disability Supports is committed to redefining the manner in which care is delivered — within exceptional surroundings, by people with a calling to care, and through limitless creativity. Welcome to a higher standard of care.
"We don't believe that our clients are broken and need to be fixed. We're simply here to give them the extra support they need."
— Virginia Thornton, Senior Case Manager, Hutchinson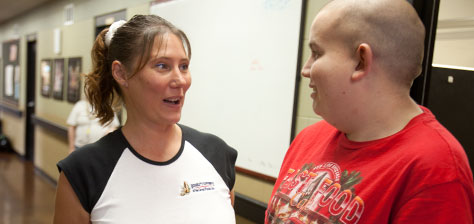 Gentle Teaching — Helping clients feel safe and nurtured is key to enabling quality care. Introduced decades ago, Gentle Teaching is a well-accepted, proven method for building relationships within groups and between individuals. It is particularly effective in communicating with people who have limited cognitive abilities.
Family-Centered Care — We treat each person as a valuable member of our family, encouraging and enabling them to achieve and experience life to the fullest — to create a story of their own. But clients aren't the only ones who join a family. Parents and other relatives are invited to become and remain involved. It's a family that never stops growing.
Client Care — Clients receive social enrichment, meaningful employment, continuing education, modern housing, case management and healthcare support, all from staff who are experts in communicating and caring for adults with disabilities.
Caregiver Support — Each of our employees is a vital part of our mission, bringing expertise and empathy to every task. Disability Supports is committed to providing our staff members with as many tools and resources as possible.
©2022 Disability Supports of the Great Plains
501 E. Northview Ave. | McPherson, KS 67460